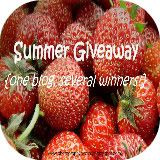 It is here! The Giveaway has officially started! Yay! I am having four prizes, and several chances for you to enter!!!
Here they are:
Blank Card Set
Two of this set are blank, one is Happy Birthday.
This is a Homemade Watermelon
Ring
made by the delightful Jordan from
This is the Grape Popper Ring also made by
Jordan.
All in one comment:
-Comment with Your UserName and leave your email address.
(If you use Anonymous leave your first name and email address as well.)
-How you found me.
-Your plans for this summer.
-Follow (1 entry)
-Blog about this giveaway using my button. Make sure to include link in comment or I will not be able to count it. (1 entry)
-Add my button to your sidebar. Again, leave link. ( 1 entry)
Leave one comment per entry!!!
Meaning, if you do the extras- all of them- (Follow, Blog, and add button) that is three extra entries- so leave three separate comments. This is important as my comments will be numbered and your comments will not count if they are all in one. I will use a Random Number Generator for the prizes.
Giveaway Closes on The First Summer Day- Tuesday, June 21st at 12 pm.
Now let's see what happens!