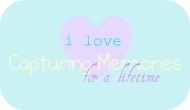 Well. Due to the need, want, and a different idea to run blogs, I started a new one.
www.capturingmemoriesforalifetime.blogspot.com
(or just click on my button. you can get the code
here.
So this one will not be updated. I will be using this one to test out HTML.
Also, I made a custom header for my new blog. I love it! I'm super happy about it.
Well. Enough for now. God Bless and go check it out!